Les artistes rendent hommage à MattelAn art tribute to 70 years of Mattel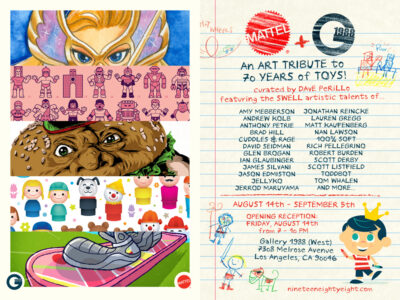 Mattel s'est associée à une galerie américaine, Gallery 1988 à Los Angeles afin de présenter officiellement le travail d'artistes rendant hommage à 70 ans de jouets Mattel (Barbie, les Maîtres de l'Univers, Playschool, Hot Wheels, etc…).
A découvrir et à acheter sur le site de la galerie : Gallery 1988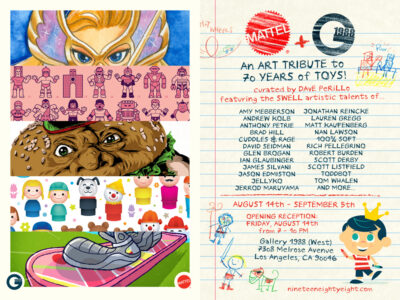 Mattel has teamed with Gallery 1988 in Los Angeles for an official show that's being billed as "an art tribute to 70 years of toys." It opens at 7 p.m. August 14 at Gallery 1988 West in Los Angeles and remains on display through September 5.
There are pieces based on Masters of the Universe, Barbie, Hot Wheels, M.U.S.C.L.E, Food Fighters, Magic 8-Ball, Rock 'Em Sock 'Em Robots, Dino Riders, Fisher Price and more. Many are poster prints but some art original paintings, drawings and sculptures.
For more information (and more art) visit Gallery1988.com.